First-Time Car Buyer's Guide | Edinburg, TX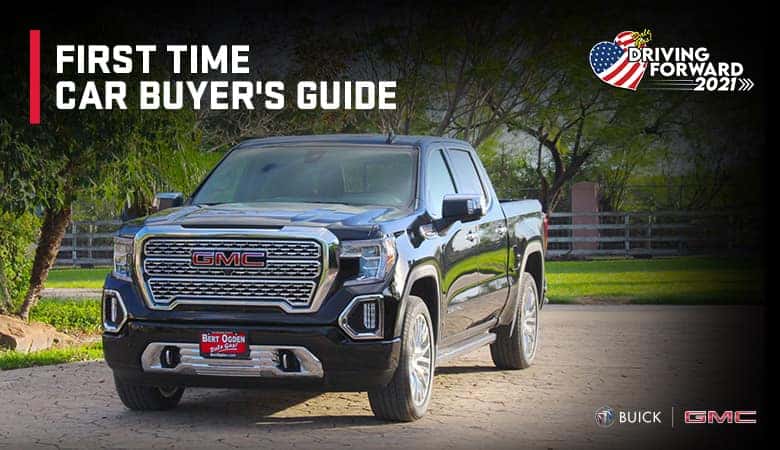 Are you planning to buy your first car soon? Whether you have just turned 16 or have relied on public transportation during your adult life thus far and are ready for the switch, the experience can be daunting. That is why Bert Ogden Buick GMC has put together this handy guide to buying your first car, truck, or SUV from our dealership in Edinburg, Texas.
Figure out your budget
Figure out how much you can, should, and are willing to spend on your first car. Think about how much of your savings you are willing to part with for a down payment and how much you are comfortable paying each month for the vehicle. Do not forget to factor in extra costs such as insurance premiums, fuel, and routine maintenance and repairs. These costs add up, so if money is tight, definitely err on the side of caution.
Do your research online
You will need to decide whether you are buying (or leasing) a new, certified pre-owned, or used vehicle. Used vehicles are considerably more affordable, new vehicles are more reliable, and certified pre-owned models sit somewhere in the middle.
After that, figure out what make and model you would like. Think about how you will use the vehicle: Do you have a need to tow or haul regularly? How many passengers will you routinely have? What technologies are must-haves, especially when it comes to safety and infotainment? Do you prefer high performance or great fuel economy?
After you have figured out a few vehicles that fit your needs, compare them online. You can read reviews, see video walk-arounds, look at safety ratings, and even conduct virtual test drives.
Get pre-approved for a loan
At Bert Ogden Buick GMC, we can help you find financing when it is time to buy, but it is a good idea to head to your bank first just to make sure they will approve you for a loan. They will be able to tell you your credit score and the type of interest rate you will pay on the loan. This information can help you determine the budget for your car purchase. We will try to help you beat that initial loan offer, but at the very least, you will know you are approved somewhere before coming into the dealership.
Test-drive your top choices
You should test-drive any vehicle you are considering for purchase in person. This is especially important when buying used. Always get a vehicle history report for a used vehicle. For added peace of mind about the health of the vehicle, you could test-drive the model to a trusted mechanic to have them inspect the vehicle.
When test-driving a vehicle, think about how it performs. Is acceleration smooth? Do you like how it brakes? How are the seats? Do you have good visibility? Do the air conditioner and heater work fast enough? Is the infotainment system easy to use? Can you see yourself in this vehicle during your daily commute and on long road trips?
Negotiate the price
For new vehicles, salespeople may not have much wiggle room on the sticker price, though you can research to see what discounts you may be eligible for. There is much more opportunity to negotiate the price on a used vehicle. Either way, be sure to have a set number that you are willing to pay. If a vehicle exceeds it even after negotiating, you should consider another option that better fits into your budget.
Get insured before you go
Before driving the vehicle off the lot, you must have auto insurance. You can have an agent who is ready to implement a policy as soon as you make the purchase.
Keep up with routine maintenance
The single most-important component of being a new vehicle owner is to stay on top of routine maintenance. Regular maintenance helps ensure your vehicle runs efficiently, smoothly, and safely for the miles ahead.
---
Are you ready to buy your first vehicle? Visit Bert Ogden Buick GMC in Edinburg, Texas, and get a closer look at our inventory of new Buick and GMC models as well as our selection of used and pre-owned certified vehicles from a variety of brands.